If you have cats, follow cat blogs, do any cat research, read stories and information about cats, you probably already know that September is Happy Cat Month. And your burning question might be how can you tell when your cat is happy? Oh you know. If you've had cats for any length of time, you know when your cat is happy and contented. Here are a few clues:
She is kneading and purring.
Her eyes are wide open and her mouth is closed and relaxed.
Her whiskers are pointed outward and do not look stressed.
She may be looking at you longingly.
She is relaxed or she is at play. A happy cat plays like no one is watching.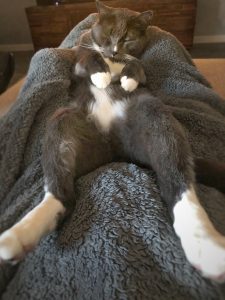 Does your cat seem bored? There are ways to increase her sense of happiness. Try these:
Provide one-on-one quiet time with her. Soooo nice for you both.
Introduce a new toy or one that she hasn't seen in a while. Exciting!
Create regular play sessions as well as spontaneous play.
And don't forget the snuggles and petting and treats.
Hey, this sounds a little like every day of the year with your cat, doesn't it? Keep up the good work and you'll enjoy a happy-happy cat.