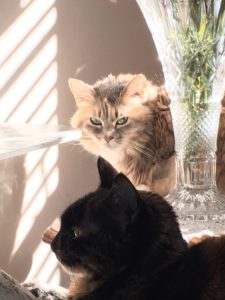 Sunday, August 28 is Rainbow Bridge Remembrance Day—a day to celebrate beloved pets that have have crossed over the Rainbow Bridge.
This "holiday" was created by Deborah Barnes, a long-time cat enthusiast, author, blogger, and past president of the Cat Writer's Association, in 2013 in honor of her beloved cat, Jazz. I'm honored to know Deb—a talented and dedicated crusader for cats.
I'm sure it won't take much to bring memories of your special cats and dogs to the forefront on this day of remembrance. You might consider honoring your pet in some small or large way. A donation to a worthy animal-related organization is always welcome, or simply display photos of your deceased pet, add flowers or toys to his gravesite, or adopt a cat—support one that's part of a cat colony or bring a homeless cat into your home and heart. This is also a good day to lavish your remaining cat(s) with love and attention.