I think most writers consider their cats to be office helpers, even though there are times when you most definitely need to close the office door to an overly zealous cat or kitten. Olivia experienced my office for the first time Sunday—on her third day here. She LOVED it and learned several new things, like how to get up on my desk, and she found new toys. To a kitten everything is a toy.
We have two cat trees in the spaces where Olivia has been allowed to venture so far. She doesn't seem interested. I brought her up on the bed with me a few times to give her a different perspective—a window, for
example. She wanted down immediately. I learned that she can and will jump down, so that resolved my fear of her climbing up and not being able to get down. Unlike most cats and kittens I've known, Olivia is not interested in climbing or hanging out in high places. I wonder if she had a bad experience with heights.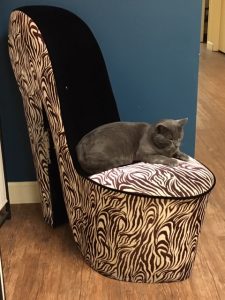 Sunday, though, she climbed up on the small cat tree, which I'd actually put on its side, and leaped from there onto my desk where the action was. This is also a great vantage point for bird watching at the many feeders I have outside. Now that was a thrill for Olivia. It's obviously the best show she's ever seen and I'm sure she'll return over and over again because there are never any reruns—it's always something new.
Olivia Update
I wrote that on Sunday–Olivia's 3rd day here. This is Day Seven and boy have things changed. Olivia is queen of the mountain. Well, she's actually queen of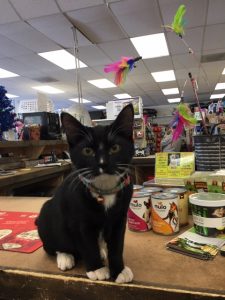 everything around here, but she now loves heights and climbing and jumping and she does it all with ease. One day I moved the cat tree to keep her off my desk because she  was terrorizing my things. So she just jumped from the floor to my desk and went about her business. She is a busy girl–and so am I making sure I don't roll over her tail with my office chair, or spill my coffee or dive onto my keyboard. She's already done that once. Oooops! And I'm always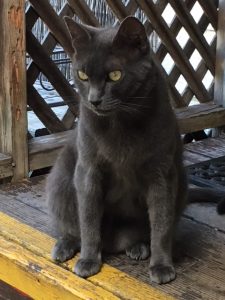 looking for the photo opp with her.
The cats pictured here today are all working cats. They live and work at places of business. One is a library cat. I've included Olivia's photo too, even though her job so far seems to be keeping me from working. Hey, there's something to be said about taking breaks and mingling with your office help–especially when she's so darn cute.