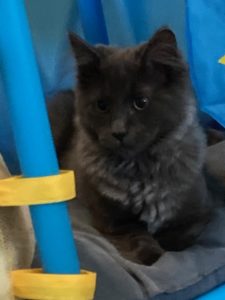 Yes, they're as ordinary as they seem—in color anyway. According to experts, grey is the most predominant cat color in North America. Now that's a bit of trivia I didn't know. And grey cats are not all mongrel cats. There are quite a few cat breeds that include grey or blue coat colors, including the korat, Russian blue, American shorthair, Norwegian forest
cat, Maine coon cat. Scottish fold and others. With so many grey breeds, maybe that's why there are so many mixed breed cats born grey.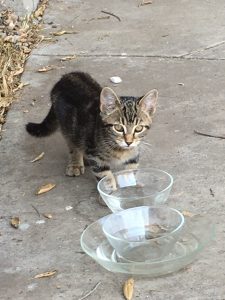 There are many shades of grey—grey tabby, deep-dark grey, soft-light grey with silver tones and everything in between. Grey cats come in all sizes too—my mother had a large Maine coon-mix cat at one time. He had long, wild grey fur. His name was one of the most common names for a grey cat—Smokey. Her next cat was a sleek short-hair grey cat with white. She named him Smokey, too.
Here are some interesting names for grey cats: Silver, Charcoal, (Char), Dusty, Misty, Grayson, Shadow, Pearl, and Cinder (Cindy). I'll bet just about everyone reading this knows or has known a grey cat.