I've never been particularly interested in famous quotes or phrases until the advent of the internet. Growing up, I didn't read poetry or pick up a book of quotes. I must say that I am a fan of the cliché, however. You'll notice this in my writings. And I've come to appreciate interesting ways with words, thought-provoking quotes, and quotes related to cats. Here are a few I've come across recently:
"If a dog jumps in your lap it's because he's fond of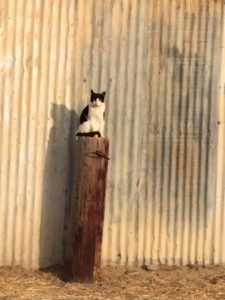 you; if a cat jumps in your lap it's because it's warmer." Now that quote goes back to the early 1900s
Here's one for all of my writer friends out there: "Cat's are dangerous companions for writers because cat-watching is a near perfect method of writing avoidance." This quoted by Dan Greenberg, author of over 70 books.
"Some men are born to cats, others have cats thrust upon them."
"Letting a cat out of a bag is a whole lot easier than putting it back." Good old Will Rogers
"A cat can purr its way out of anything."
Lillian Jackson Braun of the Cat Who series said, "Cats never strike a pose that isn't photogenic."
And what about Sylvester—yeah his was among some of the greatest cat (or tat) quotes: "I tawt I taw a puddy tat."
And let's not forget Mark Twain. Here's one of his and it has become one of my favorites: "What greater gift than the love of a cat?"