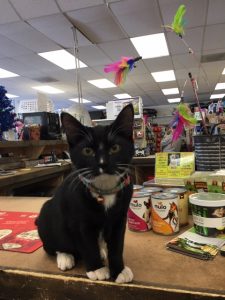 It appears that the cat café was not a passing concept. Not only are the numbers of cat cafés growing in the US and Japan, which was probably the second country to adopt the idea (Taiwan being the first known), but in many other countries as well. I couldn't find statistics on the actual number of cat cafes worldwide or even in the US, just know that if you love visiting cat cafés, you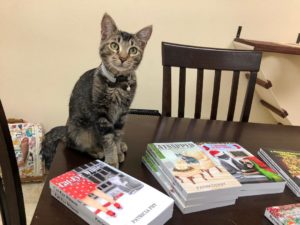 may be able to find one or more just about anywhere you travel. One just opened in Dubai, for example. And, according to my research, some  cat cafes are actually profitable.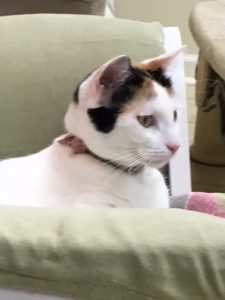 The point of the cat café, of course, is to find homes for cats, and this is possible in most instances when the establishment is making a profit. How does one do that? Many cat café owners make ends meet through the restaurant part of the business. I've visited cat cafes that don't actually have a café. They serve treats from machines. Others have enough going on aside from the
cats to generate a profit. One cat café I visited had a lovely boutique which I must say I supported. I still enjoy wearing the cat-motif sweater I bought there. That cat café also featured a food truck out front with picnic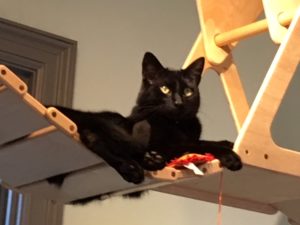 tables where you could eat either before or after your cat visit.
I get a kick out of some of the names people come up with for their cat café: Knead Catffeine, for example, Crumbs and Whiskers, The Pawfee Shop, The Catfe, Sip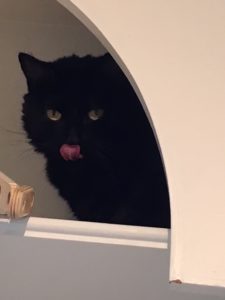 and Purr Cat Café and how about the KitTea Cat Lounge.
Here's a link to cat cafés in the US. You might notice the states that don't have them yet: Montana, Idaho, Wyoming, North and South Dakota, Oklahoma, Louisiana, Missouri, Tennessee, Pennsylvania and a few eastern states. https://catcafesnearme.com/
And here's an interesting article featuring some of the best and worst aspects of the cat café where the cats are concerned.
https://catinfo.se/2022/03/06/are-cat-cafes-good-or-bad-for-cats/