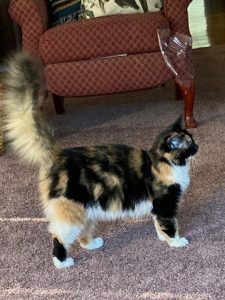 A couple of days ago Olivia and I watched a tree squirrel make his way along a power line from a pole to a tree. That squirrel was swishing his tail and pounding it all along the way. Swish-swish, bam-bam. That's when I realized that Olivia must have been brought up by squirrels, because she uses her tail to express herself just like that silly squirrel was doing.
Yes, Olivia has the tail and she flaunts it and she uses
it. Sometimes she swishes it in warning or irritation and she bangs it on the floor when annoyed. Hilarious! She also pets me with her tail—that's so sweet and she slaps me with it, depending on her mood and her desire at the moment. I've come to the conclusion that Olivia's spirit animal is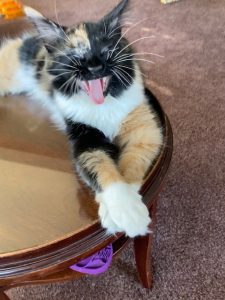 a squirrel, although sometimes she reminds me of a young goat, leaping into the air on a whim, jumping against the wall and kicking off of it then racing around the room like a crazy goat kid. She's a mole sometimes—holing up under blankets when she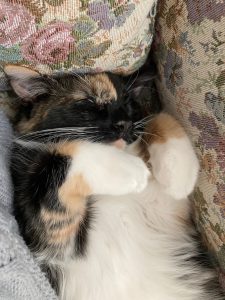 doesn't want to be seen or bothered. She can be a little piggy when eating, and a parrot with her chatter when she wants something or wants me to do something. There's the owl aspect at times—oh the stare with the big eyes. And for a time there when she was a kitten, she used to fetch like a dog. She's my first fetching cat. She would bring me a toy, drop it in my lap, and wait anxiously for me to throw it, then bring it back again and again.
Have you ever thought about it? What other animal is your cat most like?