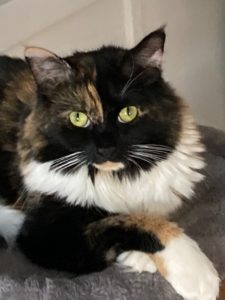 Book 8 of the Calico Cat Mysteries is the focus here in the factory this month. The book is completed—except for the final touches. The manuscript is back from the editor, I've completed my final edits, the print book is formatted and now the formatter for the ebook version is working her magic.
In ten days or so both the ebook and print book will be submitted to Amazon for publication and within hours you'll be able to purchase your copy. And believe me this is a book you're going to want to read. It has so much crazy cat (and horse) fun.
What am I doing with my time now that Book 8 of the Calico Cat Mysteries is off my desk? You should know me well enough by now to know I've already started Book 58 of the Klepto Cat Mysteries. We're always creating and producing around here.
If you haven't done so in a while visit the Calico Cat and the Klepto Cat Mysteries websites. CalicoCatMysteries.com and KleptoCatMysteries.com.