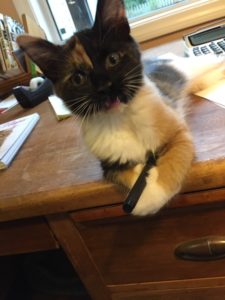 There is such a thing as the working cat. You've met cats in libraries keeping watch over the books and welcoming patrons, at the nursery providing a little extra help picking out plants, in the pet store, citrus packing factory, bookstore, and more. Cats are also happy to oblige warehouse owners as mousers.
I've shared stories here of working cats, cats running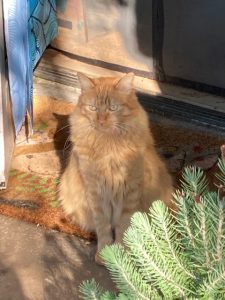 for office, cats winning honorary office status, cats on ships and so much more. In fact, I'm writing a mystery around the theme of working cats as we speak. But here's an adorable article featuring all the types of work our ordinary cats do for us at home. I think you'll get a chuckle out of it and do a little head-nodding as if to say, "Yes, my Ginger, or Annie, or Gizmo does that.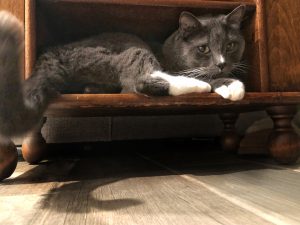 Just imagine what your cat does around your house on a daily basis. Our cats are yoga instructors, counselors, entertainers, food critics, even security guards. For example, I always know when an Amazon delivery has arrived on our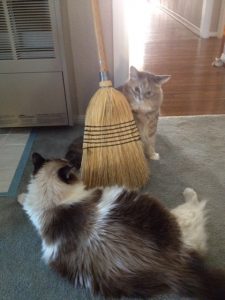 porch because of Olivia's reaction. She becomes ultra alert, stares at the door, and often leaves the room at a dead run.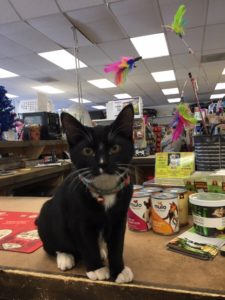 If our two cats got jobs what would they be? For Sophie, our classy elder cat, maybe she'd enjoy lolling around each day in a dress shop, in a furniture store—demonstrating the products, or she might work in a cat-food factory as a tasting master.
Olivia already works as my muse for the Calico Cat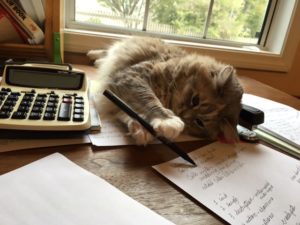 Mysteries and my office assistant. But if she were to seek work elsewhere it might be as a toll-taker. She loves watching cars and big trucks roll past the house through the windows.
If you like the concept of the working cat, watch for Book 6 of the Calico Cat Mysteries, scheduled for publication around the first of March. No worries—a new Klepto Cat Mystery is coming in the first part of February and it's a doozy. Here's the link to a fun article n how our cats earn their keep at home.
https://www.catmamas.com/cats-at-work/