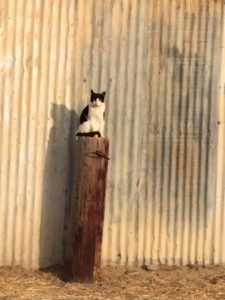 Today I'd like to touch on a serious topic—how cats are affecting our environment. I don't mean our home and our neighborhood, but our very environment—the ecology—the ecosystem—the natural balance of things.
Cats (especially feral cats) are being blamed for a serious decline in the wild bird population. There are groups wanting to poison and otherwise destroy the local feral cats—which could trickle down to our
household pets—those that roam.
In Book 5 of the Calico Cat Mysteries, a character in the story offers this: "Some people blame cats for being hard on the environment, but it's we humans that cause them to become destructive. We let them breed indiscriminately, and we encourage over breeding by buying purebred cats and by not having our cats spayed/neutered. We get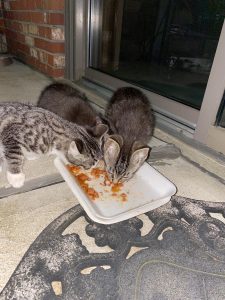 tired of a cat and we turn it loose or dump it somewhere to fend for itself. All of this adds to a huge increase in the feral cat population, which greatly affects the balance of nature."
If people buy cats instead of rescuing them, this encourages more breeding, and a lot of cats go without homes. Even some of the people who buy purebred cats will leave the cats behind when they move or they don't keep their cats inside. They don't have their cats neutered and those cats continue to breed. If there's no one around to manage the cats, they take advantage of our livestock, they kill the birds we invite to our backyard feeders, and they have more kittens that no one wants. We humans have caused the overpopulation of unwanted cats, and we need to take responsibility for those cats and the damage they do by creating a better world for the cats themselves.