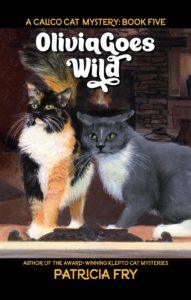 Today we'd like to announce the first book of the year—a Calico Cat Mystery and it's available in both print and Kindle at Amazon.com right now! Here's the scoop:
Olivia Tames the Wild-Wild West.
In this story, Olivia and her friend, Rags, the klepto cat, vacation at a ranch in Colorado with their families. Together, they dig up important clues to a tragic mystery, and they unearth something that will change a life forever. While Olivia finds a friend for a lonely aging horse and leads a brood of helpless ducklings to safety, Rags puts himself in danger to save a cougar's life. This is a fun read with interesting human and animal characters, a baffling mystery, and a lot of unexpected surprises.
Do Readers Like This Series? Here are a few comments:
"I love these books. I'm hooked on them like I was the 'Cat Who…' series"
"This series is turning out to be just as good as Patricia Fry's other series with Rags."
"As usual this author does not disappoint."
"The author has a knack for coming up with very unusual stories."