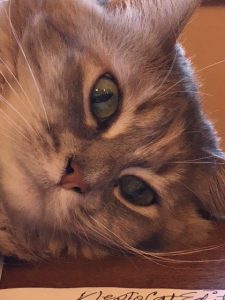 Many of us embrace a cat that shows up on our doorstep or that reaches out to us as we walk past their pen at a shelter. I'll bet you have a story of at least one cat that chose you, rather than the other way around.
When I first saw Lily, she sat quietly in the back of a pen staring–just staring into our eyes. Her sister, on the other hand, actively tried to engage us. We played with the little calico, but the tabby with the big eyes sitting in the back of the cage is the one that I couldn't resist. We had 11 wonderful years with that sweet tabby and I believe that our decision to take her in was more her idea than ours.
Some of my favorite stories are of cats that decide the grass is greener on the other side of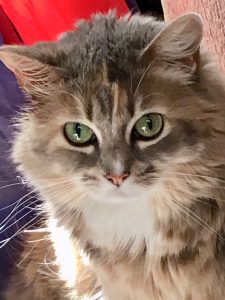 the fence or the street and they find a way to move into that home and into the hearts of the family there. It happened to me once. We brought home a large dog and one of our cats was not happy. She began spending time across the street with a dogless family. With our permission, that family took in Misty and she lived out her life in the home she chose.
There's also the story of Gravy. He had a nice home with a loving couple and several other cats, dogs and even birds. He roamed the neighborhood by day and one morning he
found himself hanging out with a new neighbor. He seemed to love the quiet and calm at this home and the gentle attention he got, so he visited more and more often.
Eventually he refused to go home. His former owners had to retrieve him time and time again, until finally they decided to let him go. He now lives in the peace he evidently craved and he's experiencing the joy of being an only cat and getting all of the attention all of the time. He's also now an inside cat who seems to have no desire to wander.
Do you have a story of a cat adopting you or a cat that left his home to move in with neighbors?