A whole lot of us got a dose of working from home last year–some companies have continued the work-at-home style for those employees that do well with it. I'm used to it. I've almost always worked at home and that's just the way I like it. Cats are a huge part of my work and always have been. They're like co-workers, best friends, and family all tied up into one. Often they act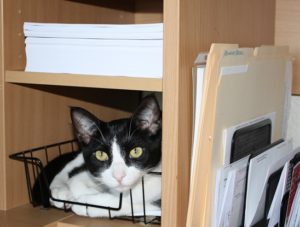 like the boss—telling me (in some cat-like fashion) what to do or what I should be doing.
Olivia, for example, reminds me to take breaks. Every morning around ten, she meows at me and claws at me until I get up from the computer and play with her. The ten-o-clock-break-time is becoming a ritual and a rule in this office thanks to Olivia. We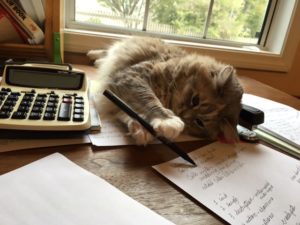 do have fun. Her favorite morning activity—chasing balls and other toys up and down our long hallway. It's not carpeted, so there's a lot of slipping and sliding and wall-crashing going on.
During isolation millions of corporate workers learned what it's like to work at home with cats and children. In order to work in peace, one of my grandsons had to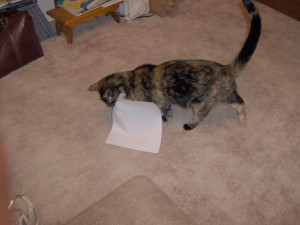 leave each morning through the front door—kissing his small children goodbye. Then he'd sneak through the backdoor into his office and work in peace. Only, his dog knew he was still at home, but she didn't tell. A cat, on the other hand, probably would have blown his cover.
And what about cats that live at their workplace–library cats and office cat/shop cat. We've all seen them at the veterinary clinic, nursery, feed store, antique store…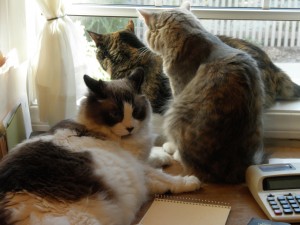 Cats are also known to work in office buildings, warehouses, even official government buildings in many countries. In Japan, cats work on trains—to delight the passengers, of course.
Cats also work in bookstores and hotels. In the Klepto Cat Mysteries, one character runs a bed-and-breakfast inn and she has cuddle cats for guests to enjoy. Guests can even invite a cat into their room to keep them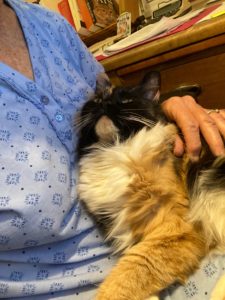 company. Great for those who are traveling without their pets and miss them.
Cats can sometimes be disruptive when you're working. They have to be taught or otherwise discouraged from dancing on the keyboard, for example or taking a nap on a freshly painted art piece. But once you come to an understanding about the office or studio policies (your cat will let you know what they are), you'll very much enjoy having a furry-purry coworker.