A friend sent me this link where I met Truffles, a gorgeous cat who works at a place called A Child's Eyes in Mechanicsburg, Pennsylvania. She helps kids feel more confident when it comes time for them to wear glasses or an eye patch. You see, Truffles likes dressing up in eye glasses. She'll even wear a patch when asked to. When children see the adorable Truffles wearing glasses, they can't help but feel a little better about wearing glasses themselves.
If you don't follow another link today, you'll be so glad that you followed this one. The pictures of Truffles working with children who are fearful of trying on glasses or who dislike the idea of wearing them will make you smile.
https://www.today.com/pets/truffles-kitty-wears-glasses-help-kids-feel-confident-them-too-t210697#
Truffles isn't the only cat who helps humans. We've all heard about therapy cats—cats that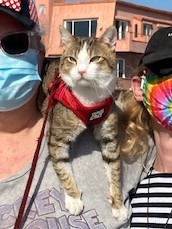 are so calm that they actually enjoy visiting nursing homes and hospitals and sitting with the residents/patients. Some individuals have support cats, who bring them an enormous amount of comfort. Cats are also used to calm children with autism and other issues. How many of us have adopted a cat and eventually wondered who rescued who? Yes, a cat can
bring enormous joy to anyone and be a great comfort in times of grief or stress.
And cats have been known to save human lives in emergency situations such as a diabetic seizure, house fire, fall, and so forth. Here's a charming article that reminds us of the value of our pet—cat or dog. https://www.helpguide.org/articles/mental-health/mood-boosting-power-of-dogs.htm According to
experts people with pets are less likely to be depressed than people without them, even our overall health can be improved by owning a pet. They say that laughter is good for us—well, the antics of a cat can sure cause a lot of laughter.
The next time you look at your cat as an ornament or a cute room decoration, consider how much more your cat offers. She may just be at least part of the reason why you are healthy, happy, and active.