Does your cat have an animal friend? Some cats seem to have invisible friends. Have you ever watched your cat play, dart, dodge, leap and swat at something unseen? I've often wondered if Olivia has an invisible friend. She has Sophie, our 16 year old cat, and the two of them have developed a nice friendship. Over the years, we've had multiple cats. Some made friends with each other, some tolerated each other, and some avoided each other. You never know what a cat's reaction to another animal will be.
In my Klepto Cat and Calico Cat Mysteries Rags and Olivia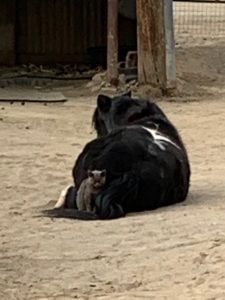 both have friends of other species. Well, these cats are adaptable and friendly because that's the way I want them to be. In my stories, I'm in charge. One of Rags's best friends is a horse. And this is not unusual. Where there are horses there are usually cats. They're known as barn cats and they often find refuge or camaraderie among the horses, cows, chickens, goats. It's a beautiful thing to see a cat involved in a lovely friendship with another animal and most interesting especially when the animal is from another species.
Here's a site you might enjoy where you'll see videos of cats making friends with a variety of other animals—ducks, owls, pigs and even a capybara. Enjoy!
https://www.bing.com/videos/search?q=cat+friends+other+animals&qpvt=cat+friends+other+animals&FORM=VDRE