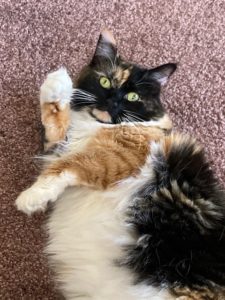 We're moving right along in the Calico Cat Mystery Factory. And Rags's fans will be pleased to know that Book 53 of the Klepto Cat Mysteries is in the works. I have the storyline figured out and Wow!
But first, let's finish Book 2 of the Calico Cat Mysteries. Olivia is itching to see what happens next. Good news, the manuscript is back from the editor. I've put my finishing touches to it. It has been formatted and I'm currently proofing the formatted version.
What's next? We'll create the back cover copy and publish! Look for Book 2 of the Calico Cat Mystery series—Where's Olivia—to be in print form by during the week of July 19. The kindle book will follow shortly after that.