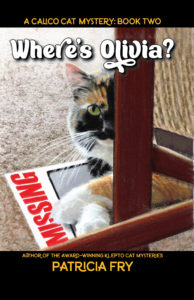 Book Two of the Calico Cat Mystery series is here. Those of you who enjoyed getting to know Olivia in Oh! Olivia, will adore Book Two—Where's Olivia?
In this book, Olivia claws and charms her way out of some sticky situations. You may recall that I left a bit of a cliffhanger at the end of Oh! Olivia. Some readers were absolutely angry about that. I apologize and I will try not to end a book quite so abruptly again. But as you will see, when reading Where's Olivia?, this story was worth the wait and the angst. Olivia and I think you'll love it. became
an entirely new book.
So in this story, the search is on for Detective Jud's missing daughter, and Olivia doesn't miss a beat as she scratches up important clues. She even does a little undercover work, but not because she wants to. When Parker and the detective meet up with a sister and brother in search of their missing mother, they join forces in a daring rescue attempt. And the spunky calico does her part to end the charade and free those who were under a wicked spell.
If you love cats and mysteries and a little of the mystical stuff, I think you'll enjoy Where's Olivia. If you haven't read Oh! Olivia—I, and many happy readers recommend it.
Print version of Where's Olivia? available now. Oder your print copy at Amazon.com. For an autographed and PAWtographed copy order at https://CalicoCatMysteries.com