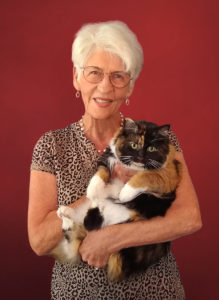 I've been an author for over 40 years and I have 97 published books. Over the years, as I wrote and published and promoted my work I met many hopeful authors with bushels of questions about publishing and book marketing. I saw a need and I began writing articles and books on those topics and presenting workshops and speaking at venues throughout the US. The fact is, that in order to sell books you must promote them.
Amazon does an excellent job of promoting at least some books. I don't recall them doing much with my nonfiction books, but they do a good job of promoting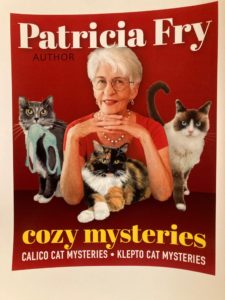 my cozy mysteries. But there's always more that the author can do. And that takes time, creativity, effort and sometimes a little (or a lot) of  money.
Recently, I hired a graphic designer to create some fresh promotional material for me and I wanted to show you what we came up with.
I now have a new publicity photo to use in many creative ways—on my book covers, to promote upcoming signings or panel discussion or other appearance, to introduce myself when doing a blog tour, and so forth.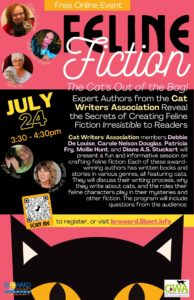 I also wanted a poster or sign to use when doing book signings and other programs and look what Laura Gruenther came up with. Isn't it fun? Can't wait to use it. It's me, of course, with my main cat characters, Rags and Olivia. The Siamese made an appearance in one of the Klepto Cat Mysteries and Laura used her because of her stance. It worked within her vision.
So now that I'm ready to go out in public again and strut my stuff with my new promotional material and new books, things in CA are starting to slow again. But there's always the Internet. I have a fun zoom presentation coming up with a panel of other cat fiction writers and I hope to be able to use the new signage in the background—unless Olivia wants to sit alongside me and wow the viewers.
You can tune into that program too if you wish. Here's the information.