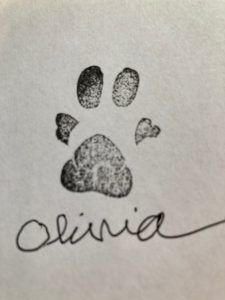 Some of you know that I've written our calico, Olivia, into my latest Klepto Cat Mystery. What fun! And a fan thought it would be fun to have Olivia PAWtograph copies of the book. So we went to work trying to get a good rendition of her paw, and the fan carved a rubber stamp of it.
This has gleaned some publicity and I want to clarify something for those of you who plan to copy the idea.
We used a nontoxic "ink" pad to get Olivia's print, then we washed her paw thoroughly afterward. I also trimmed the long fur on her paw for a clearer image of
her pads and so that it would be easier to clean her up. In Olivia's case, however, the fur around the pads is thick and made it difficult to get a good print. I opted not to do any more trimming. And the artist-fan was able to use what we got on our first attempt to create a good likeness of Olivia's paw. In other words, no cats were harmed in this process, as it should be.
However, was it the right thing to do to trim that long fur from her paws? I'm not one to alter a cat's appearance, although I sure was tempted to pluck a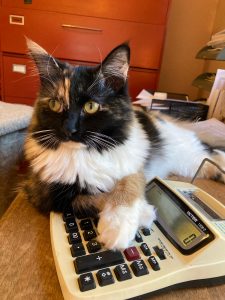 bent whisker from Olivia's face when she was younger. I didn't, of course, and it seems to have either fallen out on its own or straightened out. I read up on furry paws and discovered that the excess long fur between the toe pads (beans) of some cats is typical of the Maine coon and Norwegian Forest Cat. (Olivia does have Maine coon in her ancestral background.) This fur protects a cat's paws when she lives where it snows, for example. But it also helps to protect the toe pads from chemicals she might encounter in the home. It's recommended that you clean a cat's paws every day whether they go outside or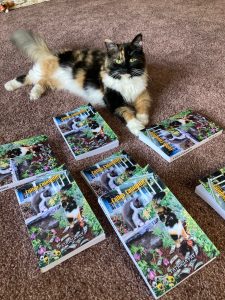 are total house cats. Well, I haven't been doing that. But it's also recommended that you trim the long fur that grows between the toes, especially with a young cat, so that when she is playing, she can get her footing better on bare floors. Yes, Olivia does slide and skid around here a lot, but she seems to enjoy the ride, so I think I'll just leave those cute paws alone for now.
Meanwhile be sure to read Olivia's debut book–Calico Calamities, A Klepto Cat Mystery. It's available at Amazon.com in print and formatted for your e-reader and at KleptoCatMysteries.com in print. Contact me if you'd like to receive Olivia's PAWtograph for the book you bought at Amazon.com.