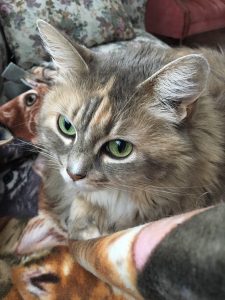 Do you love an older cat? I've had a few who lived into their senior years and it is a trip like none other. Lily was only eleven when she died of chronic kidney disease. So she was ever young, really. Under her veterinarian's care, we kept her healthy for more years than is typical once kidney disease is diagnosed. Her overall health was good until she suddenly went into renal failure in May of 2020. She died less than a week later.
Katy was my first senior cat. I bought her from a pet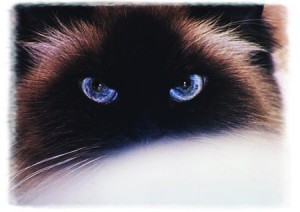 store when she was four months old. What an adorable, precious being—a Himalayan by breed, from a kitten mill in Missouri. I probably won't buy a cat again—all of my other 16 or 17 cats over the years have been rescues. But I couldn't have asked for a better companion than Katy even into her teen years.
As she aged, she began to change—just like we do as we age. She became less active, of course, but she also seemed a little senile or was it just a sign of inner growth. She turned from a cat that hid anytime a stranger came into the house into one who greeted our guests. My own daughters, who live close and visit frequently, only knew Katy as a blur—darting out of the room in fear when she'd see them. As she aged, however, everyone became her friend. She no longer had that fear. Katy lived to be over 17 years old. She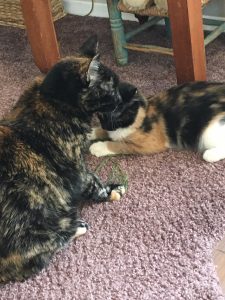 developed kidney disease at around 15 and we administered subcutaneous fluids at home for a couple of years until she decided she no longer wanted the treatment.
Now we have another senior cat in our home. Sophie is a tortie. She was found at 10-weeks old roaming the streets of a nearby community when she was trapped, spayed, and put up for adoption. A friend worked at the veterinarian's office where Sophie was spayed. She called and said, "We have a kitten here who needs a home." We'd lost Katy just months earlier and were not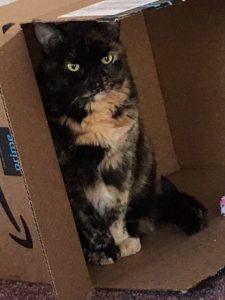 sure we were ready for another cat. We had two others in the household, but I yearned to have another Katy—of course I did. So I asked Cassie, "Is she long haired—does she look like a Himalayan?" Cassie lied. "Yes," and I knew she was lying. But this kitty needed a home, so we loaded the carrier in the car and came home with Sophie.
Now Sophie is 16 and a half. She has slowed down. She sleeps more often. She eats more—and more often. When we lost Lily, Sophie became really sick and we almost lost her as well. Stress, they said. We were concerned about bringing in a kitten—what would that do to Sophie? Would this affect her stress level negatively or positively? She wasn't doing all that well, so we decided to try. The result? I'm happy to say that Sophie has actually reverted to her younger self. She's lively. She still jumps up onto the tallest bed in the house and she often engages the younger cat, Olivia, in play. Sure she has slowed down and she lazes around more, but she has spirit—a spirit that seemed to diminish there for a while as she suffered the loss of a companion cat.
In this case, bringing Olivia into our home turned out to be a super plus for Olivia (who was homeless like Sophie was when we adopted her), for us, and even for Sophie.