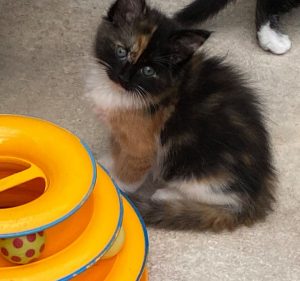 Olivia turns one year old Saturday—May 1 (or there abouts)—so I thought I'd dedicate this week's blog posts to her.
We lost our precious tabby, Lily, at eleven years old during the year of the pandemic. (Just when we thought things couldn't get any worse, right?) Two months later we were given a ray of sunshine—a sweet calico came into our life.
We adopted her from her photograph. I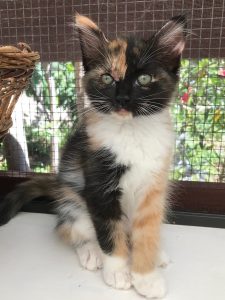 mean, look at this adorable kitten—how could we resist? And believe me, she wasn't the first kitten picture we saw. But she was the first kitten that really clicked with us. We were so eager to bring the orphan into our hearts. Yes, an orphan. Someone found her and her siblings alone living under a house. At least her rescuers thought the larger male kittens could be her siblings, although she was tiny compared to the others—a runt, they thought.
The kittens were trapped and carted to ResQcats in Santa Barbara, where Jeffyne Telson and her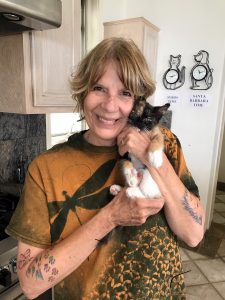 volunteers cared for them until they were old enough and healthy enough to be adopted. We were excited to hear that we could pick up the calico kitten in three weeks. When the day came, we were prepared and eager to meet the kitten, who we knew only through photos and a brief video. That day, however, we learned there was a problem. One of her siblings had come down with ringworm. All of the kittens would need to be treated—a treatment that included medicated baths three times a week for three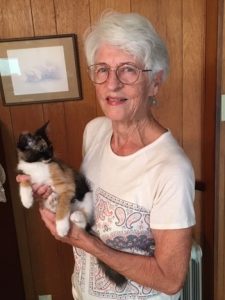 long weeks. Torture for the kitten and for us.
I couldn't wait to get my hands on her. However, she was getting hands-on with her treatment—which as it turns out probably helped in the socializing process.
Finally the day came when we could meet our new baby and bring her home—happy dance day.
She came with a name—one of the volunteers named her Olivia. We decided to keep the name. She also came with a strong mind of her own, which she decided to keep.
She was just about four months old by then and had already developed quite a sweet and feisty purrsonality. Now the fun would begin.