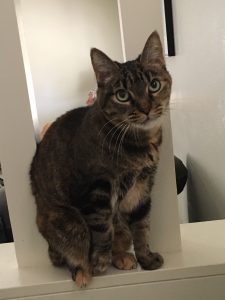 In honor of National Senior Pet Month, I'd like to share a little about the veterinarian's role throughout this pandemic. I notice when I visit our veterinarian, there are signs out front referring to them as heroes. They are in the trenches and working even harder this year to take care of our pets' needs. My hat's off to them–all of them.
We have a senior cat and a kitten. In May, our eleven-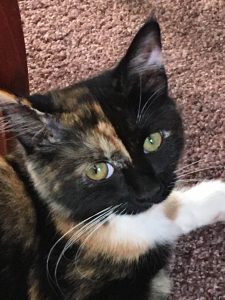 year-old cat, Lily's kidney disease flared and we lost her. So despite the inconvenience and restrictions and rules of the pandemic, we've had to visit our veterinarian fairly often over the past nine months or so. With sixteen-year-old Sophie's serious stress issues when Lily died, and getting the new kitten on the right health track, we've visited our regular veterinarian and two emergency vets probably seven or eight times this year. And I can tell you it isn't the experience we're accustomed to.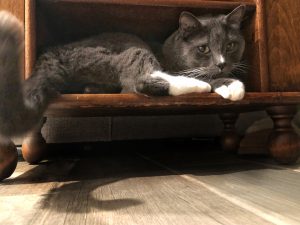 No matter the weather, you wait outside with your pet—preferably in your car with the air or the heat on. Everyone is required to wear a mask! Once a receptionist acknowledges you, there's often a long wait period. We were at our veterinarian for two hours this week waiting for Sophie to be seen for an ear infection. Several weeks ago Sophie started failing and we saw our vet on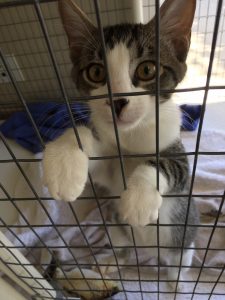 a Friday. Sophie wasn't responding to treatment, so Saturday afternoon we tried to find an emergency vet who would see her. After waiting at one clinic for an hour, we learned it would be at least another three-hour wait. We opted to try another emergency vet. Also a three-hour wait. We finally found a veterinarian who could take her immediately and we were back on the road home after an hour with all of the meds and advice we needed to get her back on the right track.
I'm astounded by the number of animals coming and going at these clinics and the number of staff running in and out of the building to handle the various tasks. I've heard that more pets are dying this year and I personally know of eight, but are more of them getting sick, too? Or is this rise in veterinary visits because we're home more and we notice more quickly when something's wrong with our cat or dog?
So what happens at your veterinarian now after you've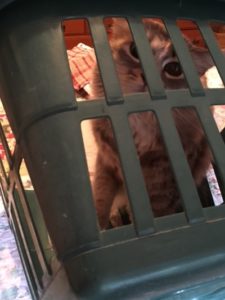 checked in outside the office door and waited with your pet in the car or under a tree? The veterinarian will take your case in turn. There were eight patients ahead of us on our last visit and two veterinarians on duty. Finally the veterinarian came to our car, asked us questions, then whisked Sophie away, bringing her back with a report, a recommendation, solution for her ear, and instructions.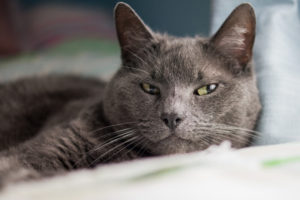 When we took Sophie to the emergency vet a few months ago, we saw one vet tech twice—when she took Sophie from us and when she brought her back. Otherwise, all consultations, decisions, and payment were done by phone from our car. It's a different world out there when we're talking about veterinary care, but we're fortunate that our veterinarians are considered essential and that they've been working for us throughout the entire pandemic.
They never missed a beat, despite the fact that they've had to make drastic adjustments to the way they do things, and my hat is off to them as they are making it work so that our pets continue to remain healthy and us happy. So don't put off your cat's check up. Your veterinarian and staff are doing everything possible to keep you safe while keeping your pet's healthy.