Indoor versus outdoor cats—it's created a controversy for eons. I spoke with a neighbor last night about her indoor/outdoor kittens (who are almost a year old now). She was concerned because her cats are getting rather hefty, but said it could be because they're finding food
outside of the house, during their daily neighborhood prowl. Yes, you lose a lot when your cats are allowed outside—you don't always know what they're doing, where they're going, what they're eating, if they're bothering people or putting themselves in danger. It's a risk that some people are oblivious to and others are quite aware of, but willing to take.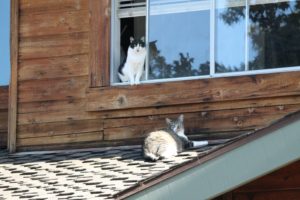 For some, the decision is made by the cat him or herself. We adopted a 5-month old kitten once and planned to keep her indoors with our other two cats. But Dinah had other ideas. She would not use the litter box—she HAD to do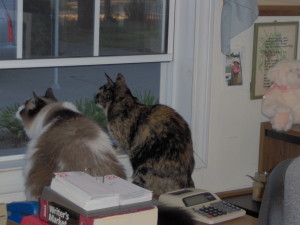 her duty outside. Even in the rain, she'd ask—no beg—to go outside to relieve herself.
Smokey (my mother's cat—AKA Rags) was to be an indoor lap kitty. He is half ragdoll, after all. But he had other ideas as well and he became an indoor/outdoor kitty. What a surprise when he agreed to stay indoors with his new family after my mother died.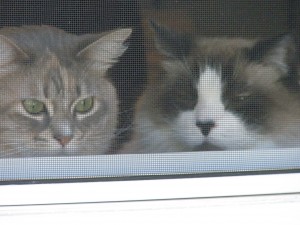 My sweet Himalayan, Katy, was an indoor cat all of her life. When she became a senior, however, she seemed rather fixated on the out of doors–staring out, trying to follow me out. Finally, I decided to let her join me when I'd go out to work in the garden. I'd leave a door to the house open in case she needed an escape route. We had some of the most lovely moments in the yard together. She'd help me, watch me, let me watch her chase after a butterfly or a lizard. She loved to lay in a sunny spot. These occasional outings became special moments for both of us.
Cats are fascinating creatures, who really are quite good at designing their own life whether it is to prowl the neighborhood, simply enjoy basking in the sun in their own yard occasionally, or they're content to stay indoors with their people.