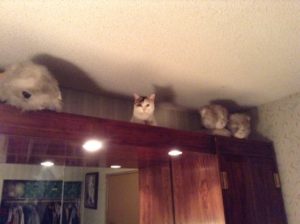 Have you been attempting to get a really nice photograph of your cat posing with the Christmas tree or with your favorite angel decoration? It's not always easy to capture the PURRfect cat image. But can you imagine trying to snap a picture of multiple cats all together in one frame?
A woman in Wales accomplished this impossible feat. She managed to gather all 17 of her pets together for a family portrait.  According to Kathy, the owner of these 8 dogs and 9 cats, the dogs were quite cooperative. As you can imagine, it took some creativity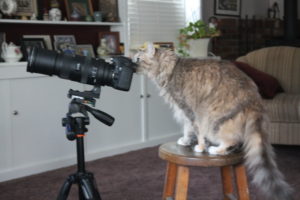 and patience to make sure all of the cats were in the photo frame.
She said she just kept picking up wayward cats and putting them back, chasing them down and returning them to their spot for the photo. Here's the result of Kathy's efforts: https://www.bbc.com/news/uk-wales-50650955?intlink_from_url=https://www.bbc.com/news/topics/cvjk7vv0w40t/cats&link_location=live-reporting-story
Many of you are shaking your head finding it hard to imagine it's even possible to photograph 17 cats and dogs together, when you have difficulty getting your one cat to pose, right? I'm always chasing our cats around with my camera, especially this time of year when there are so many fun and colorful backdrops for a cat photo.
So how do you photograph a cat? There are definitely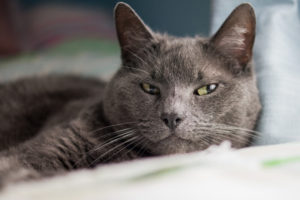 some tricks and techniques. I sat in on a workshop at the Cat Writers Association conference one year with a cat photographer and got some great tips. My favorite was this: go into a room
and close the door. It's best if the cats know you are in there. Set up an interesting backdrop using props perhaps. Make sure the lighting is good. You want to see the color of your cat's eyes. Photographing a cat in a darkened room results in the cat having large pupils. How much prettier her eyes are when the pupils are mere slivers and you can see the gorgeous color.
So once you have the area ready, open the door and your cat will most likely come in to explore the changes you've made to that environment. Have your camera ready because they're bound to pose whether they know they're doing it or not.
Here's a site where you can get additional tips for creating that beautiful Christmas card portrait of your cat. http://www.vetstreet.com/our-pet-experts/5-ways-to-take-great-photos-of-your-cat
And once you've made that amazing capture–share it here.