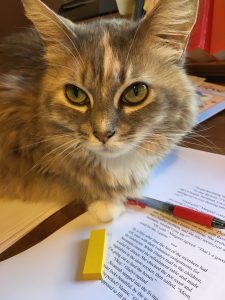 I finished another phase of the work on Book 40 of the Klepto Cat Mystery series this weekend and handed it over to the formatter. He has completed the formatting process, the adorable Bernadette Kazmarski cover is ready, and I'm currently proofing the formatted version of the book line-by-line, word-by-word. The next step, publication! Happy Holidays!
The print version of Meow and Forever should be ready for you to purchase by the end of the week. It's doubtful that Amazon can get it to you before Christmas, though, as they create books these days on demand. You order it and they have to make it before they can send it to you. I've noticed it takes longer for them to ship the first copies of a book. By the way, the kindle version should be ready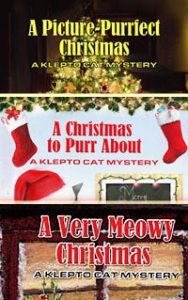 around mid-January.
If you want to give a Klepto Cat Mystery as a gift this holiday season, consider purchasing one or all of the Christmas stories—A Picture Purrfect Christmas, A Christmas to Purr About, and A Very Meowy Christmas. If you hurry, there should still be time for the books to arrive.
I'd write more about my work and my books, but I know you're waiting for Book 40, so I'd better get back to work.