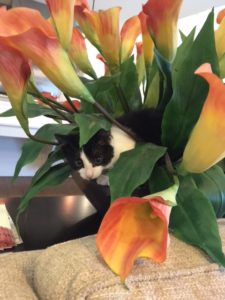 In most cases, the answer to this question is—whatever he'll eat. Cats can be finicky, but there are so many cat food choices out there that surely you can find something he'll adore. Is it canned food (pate, sliced, stew), kibbles, moist, prescription, natural, organic, or raw food? What flavor does your cat prefer? Salmon, beef, tuna, whitefish, chicken, with or without grain? What do you or your veterinarian prefer your cat to eat? Often it isn't the same thing he wants to eat—the piece of chicken from your plate, tuna bites, any cat treat, or how about a smidge of catnip?
Cats also eat grass, your favorite houseplants, and if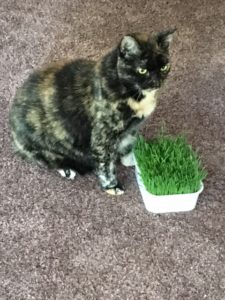 you're not looking she'll sometimes lick from your ice cream bowl or take a bite of your pumpkin pie. Our kitty, Lily, will eat just about anything I'm eating. While she's on a
prescription diet, we carefully monitor what she eats, but I still get a kick out of her when she steals a piece of spinach or a string bean from my plate and actually eats it.
While there's a lot of controversy about what to feed your cat, there are also some hard fast rules. One of them is that cats are carnivores and a healthy cat will thrive on protein. Some say that a cat cannot live without meat.
In case you're interested, here's an article on the nutritional requirements of cats and why their needs are a little quirky. https://www.petmd.com/cat/nutrition/evr_ct_cat_nutritional_needs_different