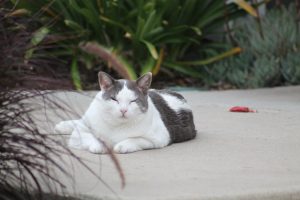 Cats come in many shapes, sizes, colors, styles, and temperaments. As an admirer of the feline species, I find it difficult to walk past a cat on the street, in a window, even a cat on a shelf without acknowledging it. Yes, even a ceramic cat or a stuffed one can turn my head. What is it about cats that's mesmerizing? Some say it's their eyes.
Yet, look at this beauty I happened across while walking last week. She wouldn't look at me—refused to "smile for the camera," but isn't she exquisite, nonetheless? There's purrsonality there even though she's simply meat-loafing on the sidewalk in front of her house seemingly without expression.
You can't see into her soul through her eyes, but she's beguiling just the same. Is that white fur the core of her charm? Is it the satisfied—almost Cheshire cat look on her face? Maybe it's simply because she's a cat.
This cat in the tree also stopped me in my tracks one day while I was walking with my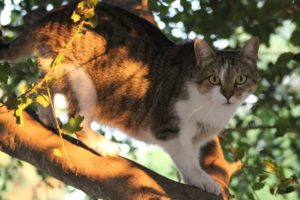 camera. And he posed almost as if deliberately. I believe I captured a bit of this cat's character—his persona in his stance and his piercing eyes. I think this guy's a bit of a scalawag—a maverick in his neighborhood. Oh, he might not cause trouble, but he knows how to make it and he knows how to avoid it. He's probably king of his territory and maybe a bit lonely because of it.