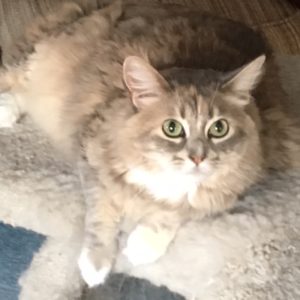 First, let me announce that it's National Tabby Cat Day. I will celebrate with Lily, even if she isn't exactly a tabby—she's a dilute torbie (a pastel tortoiseshell tabby) and she has only a partial M on her head.
Now to today's topic: Cats and cars don't always go well together. First, cars are an extreme hazard for outdoor cats. Second,
cats don't usually like riding cars. But that's not true for all cats. I've never personally had a cat that appreciated a trip in the car whether we're moving, evacuating, or going to the veterinarian. But some cats are great travelers and probably most cats can be conditioned to enjoy a car ride now and then or even extended vacations with their humans. Yes, people do travel with their cats—in RVs and on elaborate vacations abroad. I once read a situational memoir about a couple who took their cat to Europe to live for several months.
What's the best way to transport a cat? I know people who just allow their cat the freedom to roam during a car ride. I've always been concerned about the cat interfering with the driver—a kitten getting under the brake pedal, for example, or a cat climbing onto the dash and obstructing the driver's view. Cats can leap and claw and spill a cup of coffee and create all sorts of havoc during a car ride. So most cat people transport their cats in some sort of carrier. It's also the safest way to get the cat to the car from the house and into the veterinarian's office, for example.
Not everyone has a carrier. My grandmother used to transport her Siamese cats to the veterinarian in a pillowcase. I haven't seen that done in years. My daughter told me about seeing a cat in a bubble at her veterinarian last week—it was some sort of car seat or backpack carrier with a plastic bubble around the cat so she could see out while confined. I looked this up and found a variety of designs. If you're interested, just Google "Bubble pet backpack or carrier."
There are many other modes of confining a cat. Special harnesses so the cat can be
strapped into the seat, for example, and even car seats for cats. There are car seats that adhere to a window so the cat can watch the world go by, seats that you can strap the cat in, and simply comfy seats where the can sleep or sit up and watch out the window. Here are a variety of interesting car seats for cats and small dogs.
https://www.bing.com/images/search?q=car+seat+for+cat&qpvt=car+seat+for+cat&FORM=IGRE