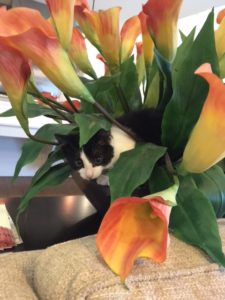 Are you old enough to remember the Maypole—a pole with colored streamers hanging from it? At school, if you were a lucky one, you'd get to grab a streamer and dance around the Maypole weaving in and out among other dancers, creating a lovely pattern of color. Great memories.
Another memory I have is making May day baskets and filling them each year with flowers for my grandmother. We'd pick flowers from her garden and then leave the basket on the porch, ring the doorbell, and run and hide, giggling all the way. My children continued the tradition with my mother and one of my granddaughters still brings me a May basket every May Day. So special.
So why the warning? It's about the flowers. If there are any lilies in the bouquet you receive for May Day, and if you have cats, please discard those lilies immediately. Don't allow your cat to have a sniff, a lick, or a bite of a lily. They are deadly.