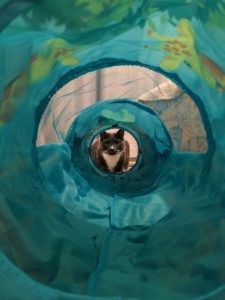 First, I'd like to give you an Smokey-update. He continues to do great! He has met the resident cat, Kitty Boo-Boo and it looks like they're going to get along. In fact, Kitty Boo-Boo seems happy to have him around. They think this is partly because she's a relaxed, go-with-the-flow kind of cat. But also, Smokey looks a little like a cat they lost to old age recently. However, I'm not sure cats go so much on appearance as they do scent. She must know this cat isn't Scooter Bob. This is Smokey, by the way, exploring his new play tunnel.
I'm told that at their first meeting, Kitty Boo-Book licked Smokey, so Smokey licked her back on top of the head. I haven't seen that kitty greeting before.
If your household is like ours and many others I know, you have pets and your pets are
highly considered in most of your decisions and plans. And they are pampered, indulged, and mollycoddled every day of the week. But did you know there are over 160 recognized pet holiday days, weeks, and months designed to celebrate our pets and animals in general? Today, for example, is National Dog Fighting Awareness Day.
Now that's something we don't want to know anything about. Why should we even think about something so ugly and cruel? I suppose the point of creating awareness is to attract more people onto the bandwagon to stop this insane practice in our neighborhoods, communities, the world.
This month is also National Adopt a Greyhound Month, National Heartworm Awareness Month, National Pet First Aid Awareness Month, Prevent Lyme Disease in Dogs Month, Prevention of Cruelty to Animals Month and National Pet Month. That's a lot to celebrate.
You might be disappointed to learn that we missed a very important international celebration. Last week was International Pooper Scooper Week. (Those of us with cats celebrate that every day of the week, right?)
While we're on the subject, let's discuss pooper scoopers. I was given one by a vendor while at one of the Cat Writer's Association Conferences and it is the best pooper scooper I've ever used. I've even bought them for friends. Here's the brand and website. Litter Lifter https://litter.lifter.com
Also this month we've missed National Siamese Cat Day and National Raw Feeding Week. But don't worry, there are many more pet-related "holidays" to observe this month. My suggestion is to choose those that are meaningful to you and get involved either by donating money, goods, or time to the cause, or by spreading awareness related to those causes that mean the most to you, or by simply creating an even better world for your pets.