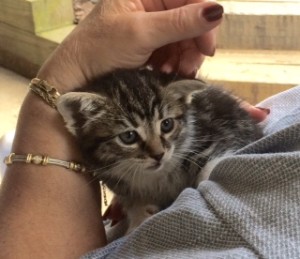 Did you know that the USDA has been using cats and kittens in testing the effects of toxins in food? Wow! We've been fighting against using animals to test cosmetics, who knew such major agencies were using cats in a similar way—only most of the cats, it seems would get extremely ill and probably die in the process. Well, the USDA has announced that they are ending this practice. That is good news for the cat population.
But what about the notion of shooting cats in order to save the world's bird population? Yes, it is being discussed more and more. Yet there is the opposing side to this awful idea—let's hope a solution to protect both the cats and the birds is agreed upon.
Today is National Tabby Day celebrating, as they say, cats of all stripes. This includes cats with stripes, swirls, dots, lines in interesting patterns and most of them have a distinctive M on their foreheads. Why? Here's a delightful collection of charming stories that explain why. The author says that she believes the M indicates that the cat is the master of the universe. https://www.catster.com/lifestyle/tabby-tuesday-hot-the-tabby-got-the-m
Look at the perfect M on this sweet tabby.