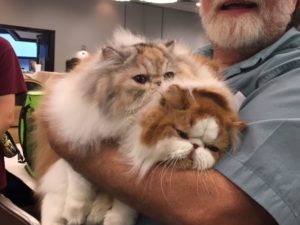 Have you ever been to a cat show? What is the point of a cat show, anyway? Well, there are breeders who take great pains to breed the best and pride in those best according to standards set by that breed association. Some breeders sell their kittens and they show their cats in hopes of getting high marks they can use in promoting their line. the higher their cats rank in the judging ring, the more valuable their resulting kittens are.
Some show participants simply love a certain breed and might have one or two cats that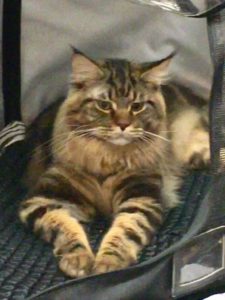 they show for the enjoyment. Can you imagine your cat enjoying a day (or weekend) spent traveling in the car, then being groomed and fussed with by the hour (for some breeds) and handled by strangers (judges) and ogled by dozens or hundreds of other strangers? Some cats seem to thrive on this lifestyle and others really aren't into it.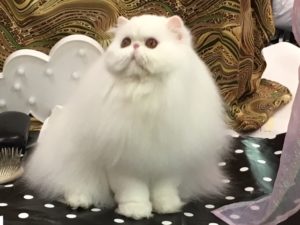 The cats of the same breed are judged against each other with the judges following specific guidelines for each breed. It's interesting to watch, especially when you know some of the specs–which you can find online. Just look up that breed for more information.
Sometimes you have the opportunity to purchase purebred cats or kittens at a cat show.
But don't go there with the idea of petting the judging entries or holding them. It's generally hands off for cats at a cat show lest you spread disease or, in some cases, muss the fur before judging. Some cats don't tolerate a lot of handling and will get stressed–not a good demeanor for a cat to be in when meeting up with the judges.
While some people dislike cat shows–can't stand seeing the cats in cages, I enjoy seeing the variety of cats, the obvious changes in standards for some old breeds, how the cats are groomed and handled by the owners, and the way the pens are decorated to look like little kitty boudoirs. You'll see pens decorated in colorful swatches of silk and satin, beads, tassels, and cozy beds. Some cat pens are themed and most have beautiful ribbons they've won for their beauty, disposition, and breed standards.
If you love cats and are fascinated by some of the interesting, old, and unique breeds out there today, you really should attend the next cat show that comes to a town near you. You'll have a meowvelous time.