Yesterday Lily sent me to her veterinarian's office to pick up more of her prescription food. While I was there, I met Buddy, their greeter cat. He's been there for a few years, but I've only just glimpsed him before. This time, I found him in a box on the counter mostly sleeping. He'd open his eyes to check out each client, especially if they had a pet with them. And he did agree to a brief photo shoot. Handsome guy, isn't he?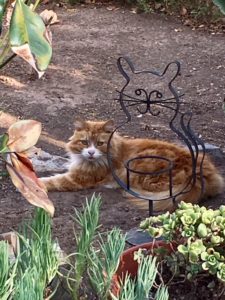 A neighborhood favorite was a tangerine girl named George. Her owners said she was a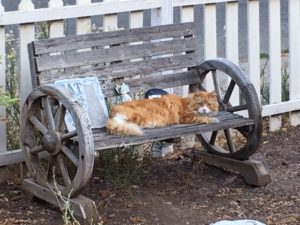 Maine coon cat—such a lovely lady who enjoyed spending time in our yard posing. And boy did I take the opportunities she presented to photograph her. You can see why—she had a knack for positioning and style. She was a regular run way model—well, yard ornament, you might say. We lost George at the age of fifteen this last year.
Smokey, my mother's cat, who is still recovering from his painful urinary blockage is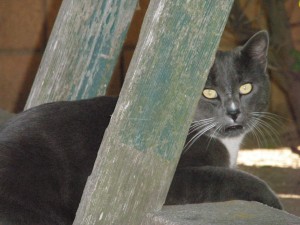 another photogenic cat. I've caught him in many interesting poses over his eight years. Like George, he's an indoor/outdoor cat, which makes photo shoots more fun. The background is more natural and interesting. Smokey is actually half ragdoll, although even the veterinarians and techs at the emergency animal hospital didn't believe me. One said, "I saw that on his paperwork and I just said, 'Whatever!'" Yeah, she didn't believe me.
"I told her that it's true. I knew his mother and his two sisters looked just like her. As you can see, Smokey is a cat of a different color and style and coat. But he is a lovable, floppy, cuddly boy (when he wants to be).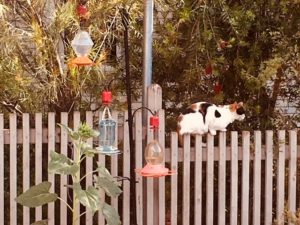 I love our two kitty girls and many who lived here before them, but I also thoroughly enjoy meeting other cats and kittens when I'm out and about. The latest cat to join our neighborhood collection of indoor/outdoor kitties is Moonie. Isn't she pretty? Too colorful and maybe too clumsy to catch birds, it seems. She watches those wild birds that I feed, but no one has ever seen her with one or even trying to get one. That's how to stay in my good graces, Moonie.