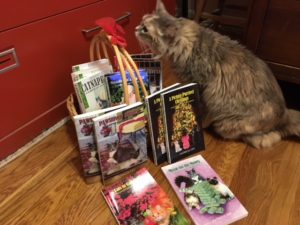 Many of you, after reading the most recent Klepto Cat Mystery, start hungering for the next one. I thought I'd let you know where we are with Book 33. I have finished the writing, my beta readers have given their feedback, the cover is in progress (LOVE it), and the book is currently with the editor.
I'll get it back probably sometime this month, put my finishing touches on it, turn it over to the formatters (one for the print version and one for the Kindle version) and I expect it to go to publication sometime around Valentine's day, perhaps.
Yes, it's quite a process to write and publish a book—many details to consider and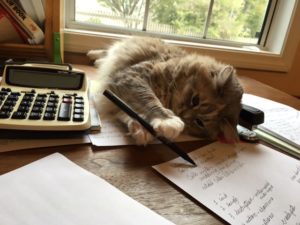 decisions to make. Each book takes hours and hours from the germ of an idea to the end result when you can curl up with the book and your cat and experience it.
The new story is The Secret Claws. In the last book, you got a beach vacation with Rags. Now the Iveys and Michael's twin brother's family have headed to the mountains for some fishing fun. Unfortunately, Rags (the wily cat) wasn't invited along, but you'll be thrilled to know that he managed to join the families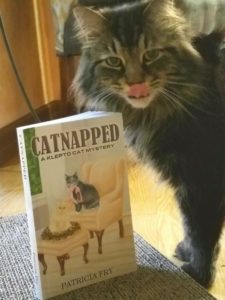 nonetheless and the result, of course, is hilarious and precarious. Keys are mysteriously appearing and disappearing. What do they mean? The local pastor promises a big reveal at the church on Sunday. In the meantime, however, villagers are in an uproar—while some are frantically seeking keys, others are giving theirs away. But almost everyone shows up at the church to learn the secret, even an uninvited cat who, it turns out, is responsible for the show going on. Yes, his klepto ways once again saved the day, until he finds himself in a seriously precarious situation. You won't believe how he got out of that mess.
This is another feel-good story with some great old-fashioned edge-of-your-seat drama and you can be sure that Rags, the klepto cat, is in the midst of it all.