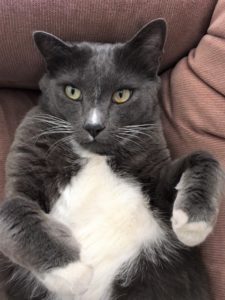 First a Smokey report. We brought him home yesterday with meds and new rules. He is restricted to the house until he's finished the medication, we have to keep an eye on the litter box to see "how he's doing," and all of his old food goes out and he'll be required to go on a diet–a prescription diet for urinary health. So far, so good, except that he peed in the refrigerator last night. Have you ever heard of a cat doing that? Oh my. The caregivers we've hired to care for Mama will need a raise now that they have a loopy cat to monitor as well. Thank you for your caring emails and comments. If we get through the next few days with him, I think he'll be okay. At least he's eating the new formula food and he can't get enough petting.
Now to the Shop Cats
If you're like me, you get a kick out of seeing a cat where a cat isn't usually seen—in a place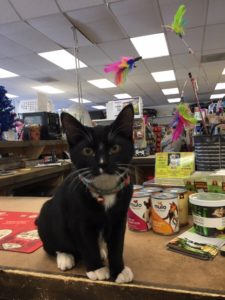 of business, for example. Just last week I walked into a new pet store looking for wild bird seed. When a cat skittered across my path, of course I stopped to meet and greet her. She was a character. While her brother snoozed peacefully in a cat bed under the counter, she had taken it upon herself to check stock, never mind that there was a dog complaining in the background because he was getting a bath. She had a job to do and she was going to do it.
She crawled behind a stack of dog food on a shelf and came out on the other side. She walked across bags of kitty litter, and sniffed around the pet feeding bowls and cozy beds. Only when she'd finished her rounds did she acknowledge me. As you can see, she leaped to the counter eager to make a sale. By then, I'd forgotten what I stopped in for.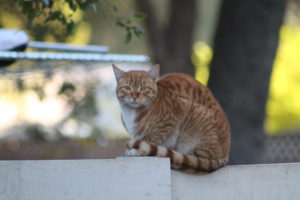 Here in Ojai, California, we have or have had cats in various establishments. Sterling lives and works in a feed store. There have been a couple of library cats, and our outdoor bookstore is usually graced by a cat, as is one of our nurseries. But there are also cats in office settings across the US, warehouses, medical buildings, restaurants, factories and other types of businesses. How does a cat become a shop or library cat? Often by mistake. The cat just shows up either injured and in need of help or just looking for a safe place to stay. Sometimes business owners will adopt a friendly cat to keep rodents at bay or to greet customers and add ambiance to their establishment.
To learn more about some of the shop cats in your area or places where you will be visiting, check out this site: http://www.shopcat.com They feature 470 shop cats throughout the world, including over thirty of them in Oregon, twenty five in California, twelve in New York City, and over twenty in Tokyo.