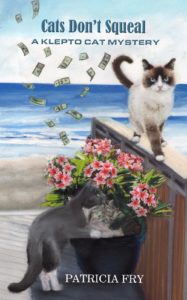 First the announcement: Book 32 of the Klepto Cat Mystery series, Cats Don't Squeal, is now available in both print and Kindle versions. Buy the hard copy or download the book onto your electronic reader today. Escape for a few hours with Rags and his friends while the rest of the world stresses over what to buy Aunt Sophie or what to serve with their turkey. Here's the link: https://www.amazon.com/s/ref=nb_sb_noss_1?url=search-alias%3Dstripbooks&field-keywords=cats+don%27t+squeal&rh=n%3A283155%2Ck%3Acats+don%27t+squeal
In the meantime, don't neglect your own cats. Keep them safe this holiday season. Every year bloggers and columnists typically discuss how to keep pets safe during the holidays and I'm no exception. Why? Because this is so terribly important, and sometimes we forget the near accidents we dealt with last year or we minimize the potential for harm to our pets. But I have to tell you the dangers are real and they can be deadly. So I want you to review these safety tips again. Click on this link. Your pet's health and well-being may depend on it.
https://www.aspca.org/pet-care/general-pet-care/holiday-safety-tips
Included in this article are hidden dangers in gift wrappings, some of the food you serve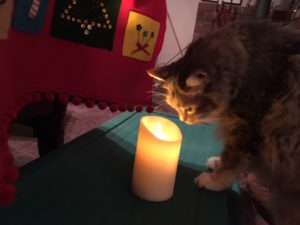 around the holidays, decorations themselves, and even your most prevalent of decoration, the Christmas tree.
Opt for flameless candles, if you have a string- or ribbon-nibbling cat like we do, give up that sort of wrapping. We knew that our tortie Sophie ate string and ribbon, so we quit using rattan, yarn, and all types of ribbon for wrapped gifts. Little did we know that Sophie also had a taste for metallic bows. Unbeknownst to us, she was nibbling on them under the tree and the outcome (literally) was awful. We found blood everywhere. The pieces of ribbon Sophie had ingested had cut up her insides. Thankfully she survived the ordeal with no consequences.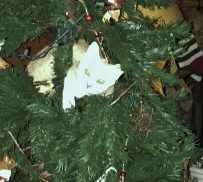 And we now use either no bows at all (sad, I know), or we slap a bow on a package as it's going out the door to be delivered, or we use flat, paper bows. They're actually rather attractive.
We had another very curious cat get caught up in the handles of a gift bag once. The faster he ran, the scarier that bag following him became. Fortunately we were home and were able to save Winfield from the bag monster.
As you probably know by now, if you've had cats for any length of time, each cat comes to you with different issues and levels of curiosity and daring. At holiday time, it's important to know your cat and to prevent any accidents that he might cause whether it's singing his whiskers on a burning candle or catching the house on fire; biting into a live wire and seriously injuring himself; getting cut on a broken ornament; or even just the stress of extra people in the house. While you're gearing up for the holidays, don't forget to consider the safety and comfort of your favorite fur-kids.