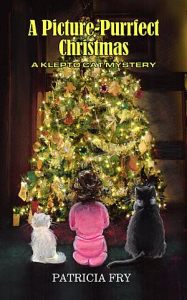 I notice that sales are up for my two Christmas stories. There's still time to order copies of A Picture-Purrfect Christmas and A Christmas to Purr About. Order autographed copies here: http://www.KleptoCatMysteries or place an order at Amazon.com.
In A Picture-Purrfect Christmas, Rags performs a Christmas miracle. This is the spellbinding story of love, hope, and a child's innocent Christmas dreams. It's one of those feel-good holiday stories you'll want to read over and over again.
A Christmas to Purr About is intense and touching. In this book, we witness a reunion to beat all reunions and a beautiful Christmas wish come true. Read the reviews at Amazon.com for these two books. They're two of the most cherished in my collection of 32 Klepto Cat Mysteries.
Spoiler alert—keep a box of tissues nearby when you read these books. They WILL touch your heart.