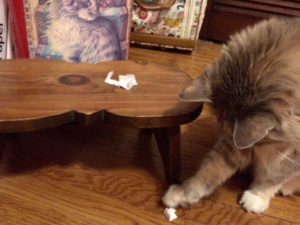 First, we have a winner. As you can see, Lily chose Pearl Hilden's entry in the caption contest. She seems to have chosen Pearl's name paws down. Congratulations Pearl!!!!
Now to the topic for Tuesday. And oooooh, what a delicious subject it is. After writing yesterday's post—celebrating cats who have passed—and feeling a little blue afterward, I thought I'd try to rebound with a fascinatingly enchanting topic. How do you feel about visits from your cats who have passed? Do you sense them around you? Have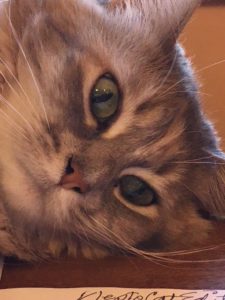 you seen any of them—a fleeting or lingering image? It has happened to me and I know I'm not the only one. I've talked to friends who describe having visits from a beloved cat who has crossed over the Rainbow Bridge. At the Cat Writers' Conference last month a group of us sat around discussing some of our experiences of this type.
I remember, a couple of times, feeling a recently passed cat jump up onto the bed at night when there were no living cats in the house. I've felt a cat rub against me, but look down and there is no cat. I see a cat out of the corner of my eye, only to look and realize no one is there.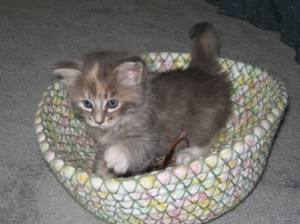 But some of my most intriguing and beguiling "other worldly" experiences come in the form of a living cat. For example, Lily came to us as a tiny kitten and she brought with her some of the traits I loved about my cats who had, by then, passed. Almost immediately, she expressed the same sort of admiration and adoration for me that my beloved Himalayan, Katy, had. She kept me in her sight at all times. When she wasn't curled up in my lap or snoozing next to my foot as I typed, she was nearby staring at me.  And she has slept with me every night for all of her eight years.
She also came to us with some of Dinah's traits, in that she couldn't seem to get enough to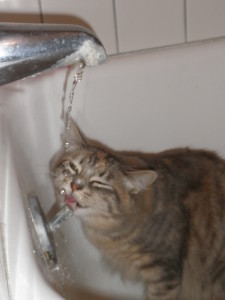 eat—still can't. We named Dinah for her fascination with food. During her naming process, I one day sang out, "Someone's in the kitchen with Dinah…" because you couldn't go in there without her following after you in hopes of getting a handout.
And Lily brought with her a fascination for water similar to the fixation with it that Winfield had.
When it comes to her behavior and personality, she's a fine blend between the gentle sweetness of Katy and Winfield and the daring and silliness of Dinah.
She's also a communicator when she has something important to say. But I think she gets that trait from us humans. We have some deep conversations with our cats around here.
I'd love to hear your stories of "spirit" cats.