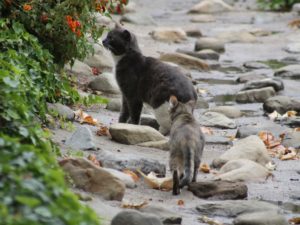 While at the Cat Writers' Conference in Houston last week, the topic of adventuring with cats came up in one of our side conversations. It was discussed that more men are getting involved with cats thus, perhaps, the increase in hiking, beach-going, traveling cats. I think it's grand—well, for the cat who enjoys that sort of thing. As much as Lily likes to be with me, I'm not sure she'd agree to accompany me on my daily walks or go hiking with me where dogs roam or even stand for a long excursion cross country or to another country. And I'm
absolutely certain that Sophie would complain and complain and complain. In fact, Sophie was so traumatized when we evacuated the her and Lily to my mother's house during the awful fire here in December that she later had signs of PTSD. She began licking a patch of fur out because she was so stressed by the ordeal and the memory of the ordeal.
But there certainly are cats who will tolerate traveling and some who actually enjoy it. In fact, it appears that there are enough cats who enjoy traveling that manufacturers are making cat packs and backpacks and other carriers for adventuring cats. Here's a great site that features some of the best cat backpacks and carriers I've seen. I love the backpack carrier where the cat can sit comfortably while being able to see through a mesh window and get fresh air as well. Lily might even become comfortable with this if I were to work at getting her used to the idea of hiking with me. This article also offers some great tips for traveling and hiking with your cat. Here
This link shows a wide variety of backpacks for cats and dogs as well as other types of carriers. Here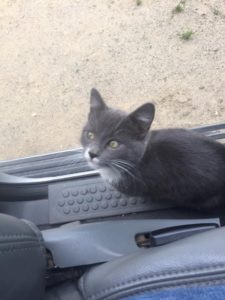 And be sure to check out this site featuring the adventuring cat. Share it with your cat. That's one way to find out if she would really like to go adventuring or if she's an arm-chair traveler. Here  There are some interesting stories about cats that enjoy getting out and about, including one who likes sailing.
I have friends who used to travel in their motorhome with their cat. Even though Sally had some fears—of strangers in the home, for example—she became quite the contented travel companion. But her "parents" knew what she would tolerate and what she wouldn't. They understood her fears and her needs, so they spent a lot of time planning and preparing for her comfort.
Have you traveled with your cat? Sometimes it's necessary when you're moving cross country, for example. Do you have any tips or stories to share about your experiences traveling with your cat?