As I've mentioned, we have some amazing authors and artists and other professionals in the Cat Writers' Association (CWA) and many of us enjoy entering the annual CWA competition with our meaningful, useful and entertaining work. I'd like to introduce some of the winners this year.
One of the most outstanding books among the one-hundred-plus entrants was called Caticons: 4000 Years of Art Imitating Cats by Sandy Lerner of Virginia. Check it out here.
My artist for the Klepto Cat Mystery covers, Bernadette Kazmarski, won a Certificate of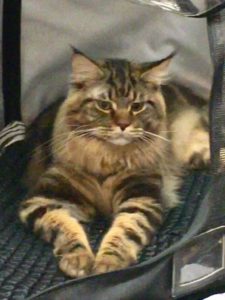 Excellence for this work along with a Muse Medallion for her Pittsburgh C.A.T. Calendar and she won a cash award—huge recognition—for an article she wrote on kitten rescue. See Bernadette's work here.
Other books you might be interested in—all winners in the CWA 24th Annual Awards Banquet include Layla Morgan Wild's Black Cats Tell all: True Tales and Inspiring Images,
Shirley Rousseau Murphy's Cat Shining Bright, and a book of poetry by Vicky Pittman called Cat Haiku: Sweet Verses.
Winning Blogs posts, (aside from this one—Catscapades) were Mollie Hunt's Crazy Cat Lady Mysteries, Feline Opines Blog by Anita Aurit and JaneA Kelley's Paws and Effect Blog. Be sure to visit them and give them a paws up.
Thank you for supporting this blog and don't forget to purchase your print or Kindle copy of my latest Klepto Cat Mystery, Meowmoirs of a Klepto Cat. Yes, it's Rags's memoirs.