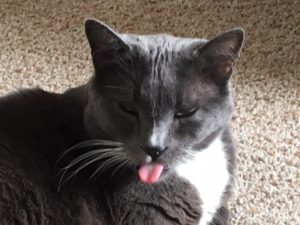 Do you find it easy or difficult to name a new pet? If you're like me, sometimes the name sort of comes with the pet—the name is obvious from the moment you fall in love with him or her. Other times, you struggle to name a cat, dog, reptile, horse, or chicken.
Often, we will observe the cat for a while before naming her–get to know her personality, her likes and dislikes, the way she plays, her favorite toys, maybe the way she moves. We've even been known to let a cat name herself through her actions and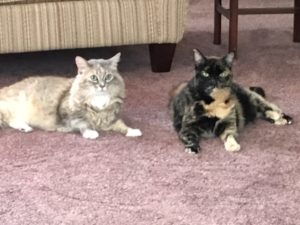 antics. I named our tortie Sophie because she has a rather old-fashioned look about her and Sophie seems like an old-fashioned name. I picked Lily because Lily was such a sweet flower of a kitten.
Do you ever use naming sites to come up with names for your pets? I use them often for the characters (both human and furred) in my Klepto Cat Mystery series. Most of us, I think, choose names that fit the cat—Tabby, Frisky, Buffy, Cali (for Calico), Angel, Tiger, Marmalade…
What do you think are the most popular cat names these days? One site says it's Bella, Shadow, Tigger, Oreo, Molly, Smokey, and Oliver.
Here's a site that lists 2,000 cat name ideas.  http://petrix.com/catnames/ Believe it or not it includes ZZZ, Catsup, and Catillac. But the most unusual cat names can be found on this site—no make that ridiculous cat names. I mean, Mr. TiddyBomBoms? And I thought my small daughters' choice of PomPom for a kitten was silly. How about Tuna Catserole, Winky Woozerton, Butt Nugget or, for a cat with a Hitler-style mustache, Kitler?
https://www.buzzfeed.com/melismashable/20-ridiculous-cat-names?utm_term=.wfpeql3VE#.uve0rJRob