It's true: The Meowmoirs of a Klepto Cat was released over the weekend and is available at amazon.com in print and for your Kindle (or other e-reader). Here's the description:
"This is the life story of Rags, the amazing, precocious cat who stars in the Klepto Cat Mystery series. Read about his precarious kittenhood. Marvel at some of his intriguing and touching teenage escapades. And delight in revisiting many of his more recent adventures. Rags is a cat with a purpose. While some people believe it's to cause chaos, others see this feline as a knight in furry armor. If we could get into Rags's head, however, we'd probably see that it's filled with butterflies and trinkets. Yes, he marches along in life to the beat of a different drummer and leaves behind an assortment of reactions. Is Rags clever or naïve, intuitive or fluky, smart or lucky? And does it really matter? One thing's for sure, he makes an impression wherever he goes and that's just the way his fans like it."
What better day to announce this new book than on National Hug Your Cat Day? Now this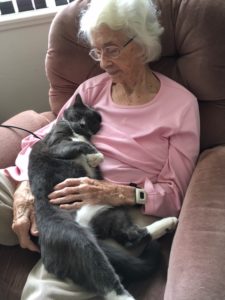 is an easy holiday to celebrate—or is it. Some of us have cats that don't like to be hugged. Okay, we can pet them and show them our appreciation for existing and for making our lives just a little (or a lot) cozier. And it's also a good day to celebrate special cats that find their way into places where they are taken care of and where they spread joy.
For example, in Turkey, a cat wandered into a classroom one day and decided to make this his home. Tombi found his way to the school gardens and discovered that he likes children—especially one third grade classroom full of children and he made himself very much at home there with the kids, until one parent complained.
The teacher tried to find a home where Tombi would be happy, but he just wouldn't adjust. And it was obvious that the children missed him. The parent eventually reversed their complaint and Tombi was happily admitted back into the school room. Come to find out, the children benefited from having Tombi around as much as he loved being part of the class.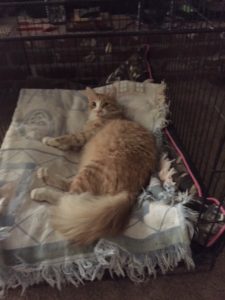 Now I wonder, will Tombi graduate to fourth grade with the same children or will he stay behind and become mascot to a new group of third graders?
Read Tombi's story here and see pictures of this charmer: http://www.lovemeow.com/stray-cat-wanders-into-school-classroom-and-decides-to-help-and-make-the-place-his-home-2539181867.html
There's another tangerine cat who attends school in San Jose, California. Bubba lived near the school and found that he would rather be there with all of the commotion on campus than lolling in his own backyard quietly watching the birds. Here's his story:
http://www.lovemeow.com/ginger-cat-bubba-loves-school-so-much-they-issue-student-body-card-for-1608473956.html
Yet, another ginger (or orange) cat attends college in Bavaria, Germany. The pictures of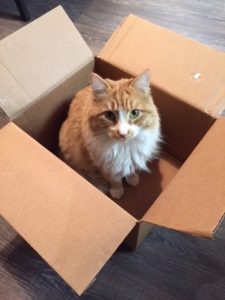 this cat interacting with students are wonderful. But it appears that all he wants to do is cuddle and sleep through class every day. http://www.lovemeow.com/ginger-cat-knows-every-student-on-campus-1843781723.html
It's interesting that all three of these cats are ginger cats, as was Dewey, the famous library cat. But wait, aren't ginger cats supposed to be kind of ornery, active, prone to trouble? I've known a few like that. But there is also the calm, sweet, almost lazy marmalade cat. There are quite a few other famous ginger cats, including Morris. Those of us, who are old enough, will remember him from the cat food commercials. Spot from "Star Trek The Next Generation" was a ginger cat, as were Thomasina (from the Disney production of the same name), Thomas O'Malley (from the "Aristocats"), and good old Garfield.