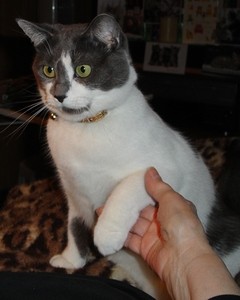 If you have a cat, you know how influential they can be. Some of them influence you to play more and laugh more while others might be the reason you relax more often. I've had cats persuade me to adopt them and take them home. Yeah, many of you can relate to that. And what about when the cat wants to eat or to go outside? Some cats can be downright manipulative.
Cats can change a heart. You probably know people who claimed they don't like cats until they spend time with one. And generally that happens in the most unexpected way. The person marries someone who loves cats. A cat strays into their workplace or home. My mother's cat was almost a deal-breaker for hiring the caregiver/companion we wanted for her. This woman does not like cats and Mama has one. The caregiver was hired, however, and she is now one of Smokey's best and devoted friends. Yeah, a cat is good at wrapping you around his little paw, even when you don't think you want to go there.
Cats aren't the only animals that influence people. In 2016 someone compiled a list of the 100 most influential animals for the year. Sixteen of them are cats. I also saw a lot of bears—mostly pandas, a few llamas, a rat (yes, a rat), a chicken and several others elephants. Check it out here. It's an interesting piece. http://time.com/4301509/most-influential-animals
Tomorrow I'll feature cat art. Yeah, yeah, I've done that before. But you've never seen anything like what I'll be sharing tomorrow. Ever see cat latte art? Fascinating. And I love the story of the woman who inserts cats into famous paintings. Don't miss Frivolous Friday Cat Art Show.