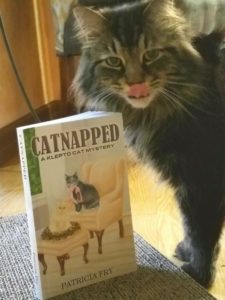 A neighbor gave me a poster once for my birthday and it is a collage of cats used in advertising. Maybe you recall the cats on Old Tom and Three Cats match boxes. Are you old enough to remember that Cortecelli and J&PCoats thread used a cat in advertising materials? Are you familiar with Dr. Thomas Eclectic Oil and the ad with a variety of cats and kittens around a world globe?
Most of you reading this probably stop what you're doing to watch a TV commercial that includes a cat. How about the one advertising a particular litter. The cute kids have a tangerine kitten that "Mom doesn't know we have him." And my current favorite, the Swiffer commercial where the long-haired cat tears around the house leaving fur everywhere. And who could forget Morris the finicky cat?
I love the images of vintage cats, don't you? Here's a site that shows a lot of them. Check it out, if you're over 50, you might see some cats you recognize. https://www.pinterest.com/pin/165366617542635312/
And here's another site that includes cats helping to advertise a Corvette, cod liver oil,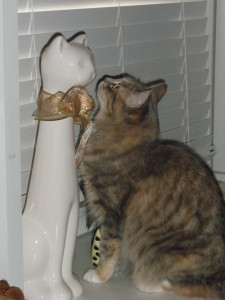 carpets, baking powder, even cigarettes. My favorite is the adorable vintage cat all dressed up and wearing a pair of eye glasses. That one's advertising an optical company.
https://www.buzzfeed.com/babymantis/21-vintage-cat-advertisements-1opu?utm_term=.rwjWbGM7W#.bewYP2N9Y
There are also some more subtle uses of cats in advertising that you may not have ever noticed. Like the cats appearing on the emblem of older Ford cars. I don't recall noticing that.
https://jalopnik.com/this-is-why-many-old-fords-had-badges-with-three-cats-o-1821482501
It just occurred to me that cats also sell my Klepto Cat Mystery books–the cats on the cover, of course, and the cat I named Rags who has charmed so many readers.