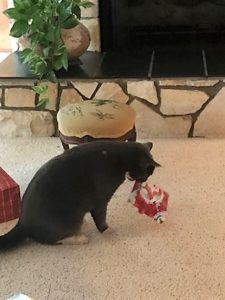 It's all over but, for some, the cleanup. And if your cat didn't join in on the fun during the celebrations, she is surely enthralled now with what's left of Christmas—gift wrap, Christmas tree needles, turkey scraps here and there, and maybe a favorite new toy.
Did you give your cat a gift at Christmas? I actually turned the tables and bought a couple of things for ME from Sophie and Lily. (Love my new long-chain necklace with tiny antique clocks dangling from it.) I gave my mother's cat a bag of his favorite treats and he actually opened the package himself. One of my grandson's and his equally cat-crazy girlfriend gave their cats an amazing new cat tree that will delight them for years and provide plenty of exercise.
Earlier this month we talked about the dangers for cats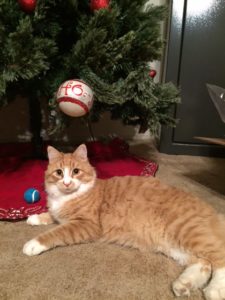 around Christmastime, but certainly they also have a lot of fun examining all the new and interesting things that are brought into the house, getting new toys, and some of them even enjoy greeting new people.
If I know cats, however, they won't be much help (and could be a hindrance) in the clean-up process.
Need Help With Something
I plan to enter a series of my posts in the Cat Writers Association annual contest. Are there any posts you've read this year that you'd like to nominate for this contest. Sure would appreciate the help–any subjects you are particularly interested in or that were especially helpful? Leave your comment here or contact me at PLFry620@yahoo.com