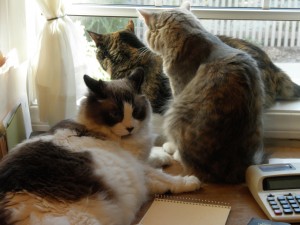 Lindsay Detwiller has five cats and she's proud of it. But it took her a while to get to the place where she'd admit the number of cats she cares for in her home. She used to shudder at the thought of revealing the number of cats sharing her home because she didn't want to be thought of as "that crazy cat lady." She didn't want to be judged. She says she has come to the place where she's proud to say that she has rescued these needy cats and that they're safe in her home. As she says, she no longer gives a damn what other people might think. Her article is here: http://www.huffingtonpost.com/entry/why-im-not-ashamed-to-be-a-crazy-cat-lady_us_59398385e4b094fa859f1667?utm_hp_ref=cats
I believe that one reason we might hesitate disclosing the number of cats we have is
because of the negative connotation. We don't want to be thought of as a hoarder with cats, litter boxes, fur, and feces everywhere and a home that smells to high heavens of cat pee. And that's just a darn shame. There are a lot of people in the world who lovingly and successfully care for numbers of cats in their home—purposely providing adequate space and provisions for them and dutifully cleaning up after them. Then there are people with even one or two cats who can't manage them—whose house is a disaster.
I once had eleven cats—all inside-outside kitties. Among them was a litter of five kittens. Yeah, that was back in the day before I understood how many cats I can successfully manage to maintain healthy cats. The most I've had since I wised up is four. For me, four is too many. Three is on the verge of too many. For me, two is perfect. How about you? Do you know your limitations? Are you known by friends, family, and neighbors as the cat lady or cat guy?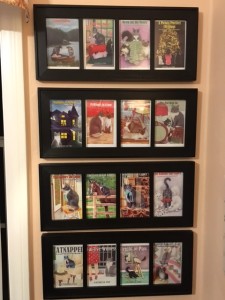 As I said, I only have two cats, but I've always had cats and my family and friends know I adore cats, so they often give me cat-related doo-dads. Of course, this has accelerated since I began writing the Klepto Cat Mystery series. My office is decorated in cat. For me, this means my calendars have cats on them, I have a wall dedicated to the covers for my 23 Klepto Cat Mysteries, I have a great cat poster showing vintage ads using cats, there's an adorable small rolling suitcase with cats (I use it to deliver books to bookstores and for signing events). I have a trashcan with a cat on it, a screen cleaner that is a cat, a cat mouse pad and more. I have cat jewelry, salt and pepper shakers, coffee cup—yeah, I'm a cat lady. But I hope I never ever wake up to a house like one that's on the market as we speak in Arizona. They call it a House for Cat-Crazies.
Every inch of it is decorated in cat posters, photos, stuffed cats, 12 cat condos, and other kitty-cat paraphernalia. Yet the owner only had 3 cats. Here are the particulars if you're interested—photos, too. Oh my. http://www.huffingtonpost.com/entry/cat-house-arizona_us_5942b8a5e4b0f15cd5b9c340?utm_hp_ref=cats
By the way–The Kindle version of Catnapped, the first in the Klepto Cat Mystery series, is FREE for the rest of today. Order your FREE copy at amazon.com