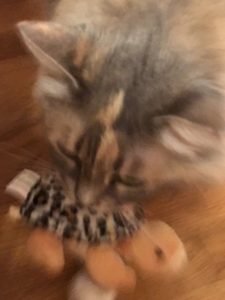 Today should be termed Eclectic Friday because I have a variety of interesting things to share. First, I finally got a picture of Lily bringing me a toy. I think some of you know I've been trying to get a decent shot of her carrying one of her stuffed animals in her mouth for years, but she's sly and stealth, as if moving her toys around is a secret mission. But today I scored. I actually captured her in two photos. This morning, she'd already brought me her toy lion, baby moose, little hedgehog, and baby bunny. And I missed the shot each time. Finally, when she vocalized her arrival with her little turtle, I grabbed my phone in time and got this too-close, fuzzy shot. I couldn't believe my eyes when a few minutes later, here she comes with her little stuffed possum. I think her ploy this morning was to make a trade—her toys for my lap, because right now she is making bread in my lap as we speak.
She's quite a girl. But I don't think she'll ever be famous for her stealth behavior. There are
many famous cats, however and I found a list of them—some of them record holders. Here, you'll see listed the fattest, oldest, heaviest, and the cat with the loudest purr. You'll learn about famous cats in literature, on the Internet, in films and more. There's even a French cat who was launched into space and returned to earth using a parachute. Wow!
https://en.wikipedia.org/wiki/List_of_cats
Today, I'd also like to share a site focused on a cat who comforts vets.
http://www.today.com/series/veterans/tom-cat-has-sixth-sense-comforting-ailing-veterans-t102190
There are some pretty amazing cats out there and who knows, maybe Lily will someday hold the record for the most stuffed toys—her basket is overflowing as we speak.
Announcement—New PRINT Klepto Cat Mystery
It's true, A Christmas to Purr About is now available in print. Order your copy here:
https://www.amazon.com/Christmas-Purr-About-Mystery-Mysteries/dp/0998535621/ref=sr_1_22?s=books&ie=UTF8&qid=1489150606&sr=1-22&keywords=klepto+cat+mysteries