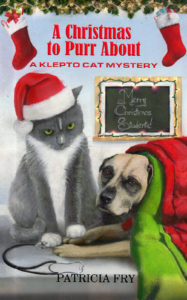 It's another holiday miracle for Rags and his family and friends. If you enjoyed A Picture-Purrfect Christmas, you'll adore Book 22 of the Klepto Cat Mystery series, A Christmas to Purr About. The Kindle version is ready for you to order: https://www.amazon.com/Christmas-Purr-About-Klepto-Mystery-ebook/dp/B06XH4YR4P/ref=sr_1_22?s=books&ie=UTF8&qid=1489063157&sr=1-22&keywords=klepto+cat+mysteries
Here's the description of A Christmas to Purr About: The Ivey family and friends agree to serve the hungry during the holidays, but not without serious consequences that require a little feline and equine intervention. Detective Craig goes missing, Rags is accused of grand theft and malicious mischief, Savannah is harassed and nearly arrested, Michael has a surprise reunion to beat all reunions, and Peaches facilitates a Christmas miracle. If you were touched by A Picture-Purrfect Christmas, you're going to adore this story of struggle, strife, and fear overcome in the most unusual and loving fashion.
The print version will be available within the next few days. So get ready for a great read. Even the author, the formatter, and the proofreader couldn't get through the end of this story without tissues.