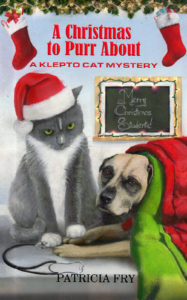 For those of you who missed the announcement, there's another holiday mystery in the Klepto Cat Mystery series. If you like a story with a lot of twists, turns, and surprises as well as tons of kitty-cat action, you'll adore this book. Warning: Keep a box of tissues handy.
Title: A Christmas to Purr About. Available in print:
https://www.amazon.com/Christmas-Purr-About-Mystery-Mysteries/dp/0998535621/ref=sr_1_22?s=books&ie=UTF8&qid=1489238361&sr=1-22&keywords=klepto+cat+mysteries
and for your e-reader https://www.amazon.com/Christmas-Purr-About-Klepto-Mystery-ebook/dp/B06XH4YR4P/ref=sr_1_23?s=books&ie=UTF8&qid=1489238484&sr=1-23&keywords=klepto+cat+mysteries
In A Christmas to Purr About, the Ivey family and friends agree to serve the hungry during the holidays, but not without serious consequences that require a little feline and equine intervention. Detective Craig goes missing, Rags is accused of grand theft and malicious mischief, Savannah is harassed and nearly arrested, Michael has a surprise reunion to beat all reunions, and Peaches facilitates a Christmas miracle.  If you were touched by A Picture-Purrfect Christmas, you're going to adore this story of struggle, strife, and fear overcome in the most unusual and loving fashion.
I've heard from a few fans and they say they could not get through this book without tissues. It is a tear-jerker–an emotional roller coaster. But everyone is so glad they read this book and are eager and on pins and needles for the next in the series.
Spoiler Alert
Be sure to read this week's blog posts. They'll include laws and detriments to having your cat declawed, stories of cats with double lives, and Happy Hour with your cats—yes, there's wine for cats. Just when you think you've seen the most ridiculous in cat products and pampering.