You wouldn't think they'd need to create special days for cats. In your household isn't every day special for your cats? Sadly, that isn't the case for all cats. So companies and organizations do their best to create awareness in hopes that all cats will have the love and luxury our cats do.
The first ever National Tabby Day is scheduled for Saturday, April 30. If you have a tabby or know one, this is a good time to celebrate him or her. There will be a plethora of kittens needing homes soon. Many of them are tabbies. How about adopting one or two? They come in many flavors—orange, mostly grey, mostly black, and a variety of mixtures.
Tabby is a coat color and not a breed. There are tabbies and tabby-points in many breeds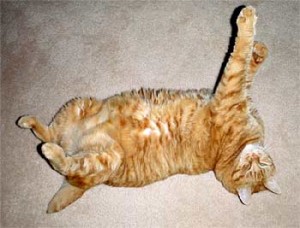 of cats.
The basic tabby patterns are known as classic, blotched (or patched), ticked, spotted, and mackerel. Most tabbies have a distinct (or not so distinct) M on their forehead.
Tabbies come in long coats, short coats and everything in between. There are petite tabbies and large ones, dark and light ones, friendly and skittish ones.
Some think the tabby coat comes from the cats' ancestors—for example, the African, Asiatic, or European wildcat.
I've had cats in every flavor, Persian, Himalayan, Siamese, tortie, grey-and-white, black, brown and white, pure white, and a lot of calicos, but Lily is my first tabby. They call her a dilute tabby because her markings are soft. Some say she's a torbie—because her tabby markings involve three colors—there's a soft shade of orange mixed into her fur.
Remember, Saturday, April 30 is National Tabby Day. Go online and see what you can do to celebrate these interesting cats.
Announcement: I'll be talking about my Klepto Cat Mysteries this Friday evening (April 29)  at 7 at Book Ends—the old church on the corner of El Roblar and Pueblo in Meiners Oaks. Join us for an enjoyable evening in a most interesting setting. It's part of Wordfest.
More National Cat Holidays revealed tomorrow: